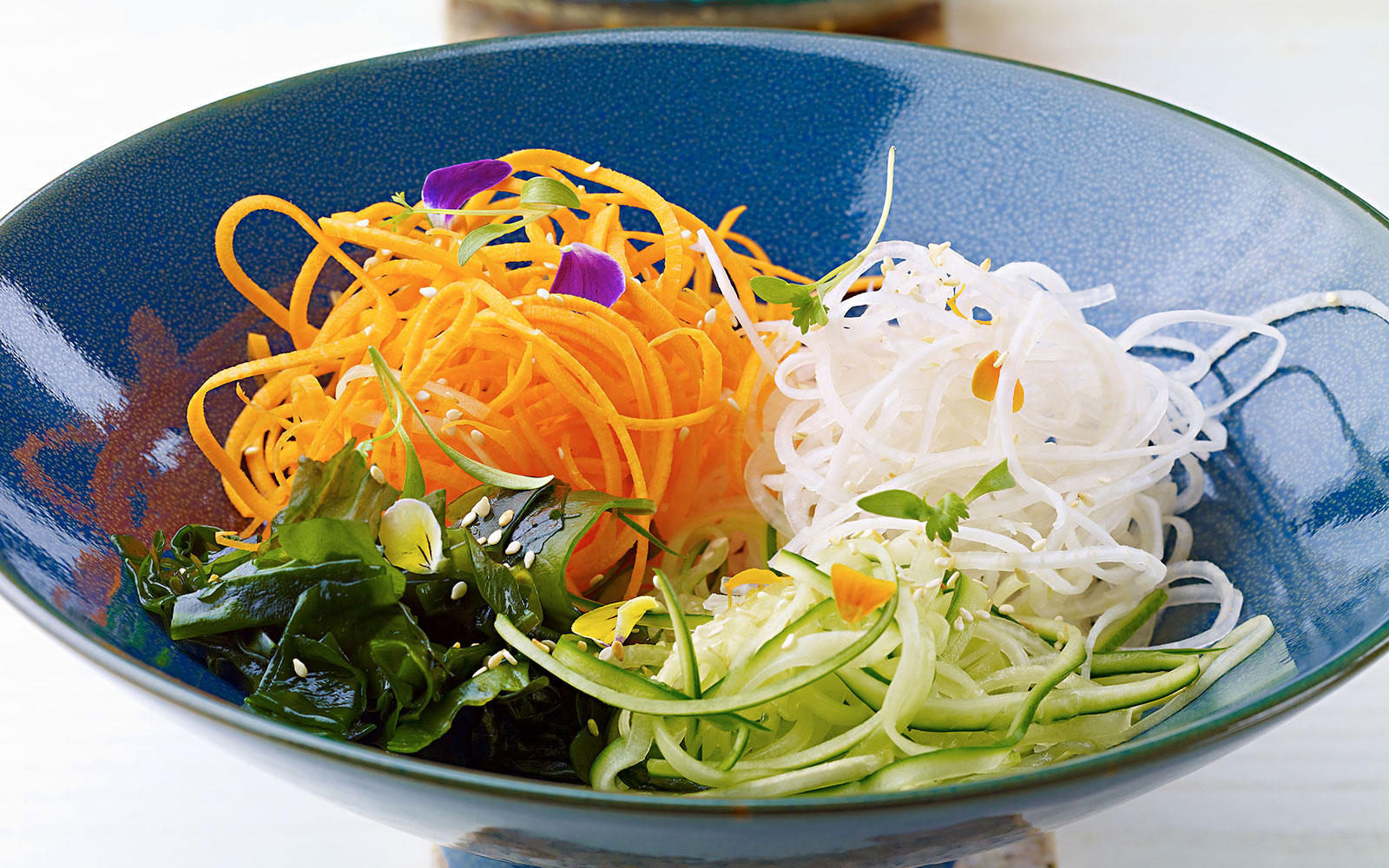 Want to stuff your face in Las Vegas? It's easy, thanks to the copious amounts of enticing restaurants seeming to whisper words of love as you stroll by. We've got tantalizing steakhouses, seductive sushi joints, and bountiful buffets. But if your diet (or appetite) runs less porterhouse and more greenhouse, have no fear: there's no shortage of vegetarian dining in Las Vegas—and sometimes it's found in unexpected places.
VegeNation
Downtown Las Vegas' plant-based darling VegeNation offers an entirely vegan take on international street food favorites. Yes, cheese lovers—that means you won't find any dairy items on the menu—but don't let that turn you off. The savory specialties include everything from tamales and steamed dumplings to a chicken pot pie gnocchi that is simply divine. Don't miss the Save the Tuna appetizer, VegeNation's fish-free take on sushi with forbidden rice.
China Poblano
Noodles and tacos are under one roof at China Poblano, thanks to renowned Chef José Andrés. The flavors of Mexico and China come together on the special vegetarian menu, which includes tacos filled with sauteed mushrooms, rajas and guac; veggie spring rolls; an impressive 20-vegetable fried rice; ceviches; and noodle dishes like the Kao Lao Lao—which pairs steamed oat noodles with a tiger dipping sauce. With more than 15 veggie options, this casual spot inside The Cosmopolitan of Las Vegas is an herbivore's dream come true.
Violette's Vegan
As its name makes clear, the menu at this Westside eatery and juice bar is entirely animal-free—and entirely delicious. Order like a pro and start with the Sassy Wings, Violette's take on the bar food favorite, and then dig right into such main dishes as the California Dreamin' Bacon Cheeze Burger or the Country Classic (breaded tofu and tempeh served atop a bed of mashed potatoes). Round out your meal with some homemade chocolate cake. Don't worry, they've got healthy options, too, including organic smoothies and fresh salads.
Scarpetta
This modern Italian restaurant at The Cosmopolitan offers a handful of starters and entrees for vegetarians. Start with the spiced butternut soup with crispy farro and porcini gelée or the creamy polenta with truffled mushrooms, and then dig into the main. You can stick with Scarpetta's signature dish, spaghetti, or get a little bolder and opt for the vegan rosemary braised lentils served with broccoli rabe and oven-dried tomatoes.
Komol
Don't let its somewhat run-down strip mall location turn you away—there's a reason Komol is one of the more popular Thai restaurants in town for vegans and vegetarians. With a veggie-friendly menu that weighs in at a whopping five pages, it's hard to pick our favorites here. Try starting with the combo vegetarian appetizer (you know, so you can sample all the things) and then move on to Chef's Special curry, a spicy herbal concoction with tofu, string beans and other goodies from the earth.
Rose. Rabbit. Lie.
A supper club with live entertainment, Rose. Rabbit. Lie. at The Cosmopolitan dishes out veggie items like you've probably never experienced. We're talking Belgian endive with pink grapefruit, pomegranate and hearts of palms; a truffle artichoke salad with fingerling potatoes and dandelion greens; a vegetable pizzette with basil pesto; and even braised trumpet mushrooms. Creative? Absolutely. Delicious? You bet.
VegeNation photo by May Harris.