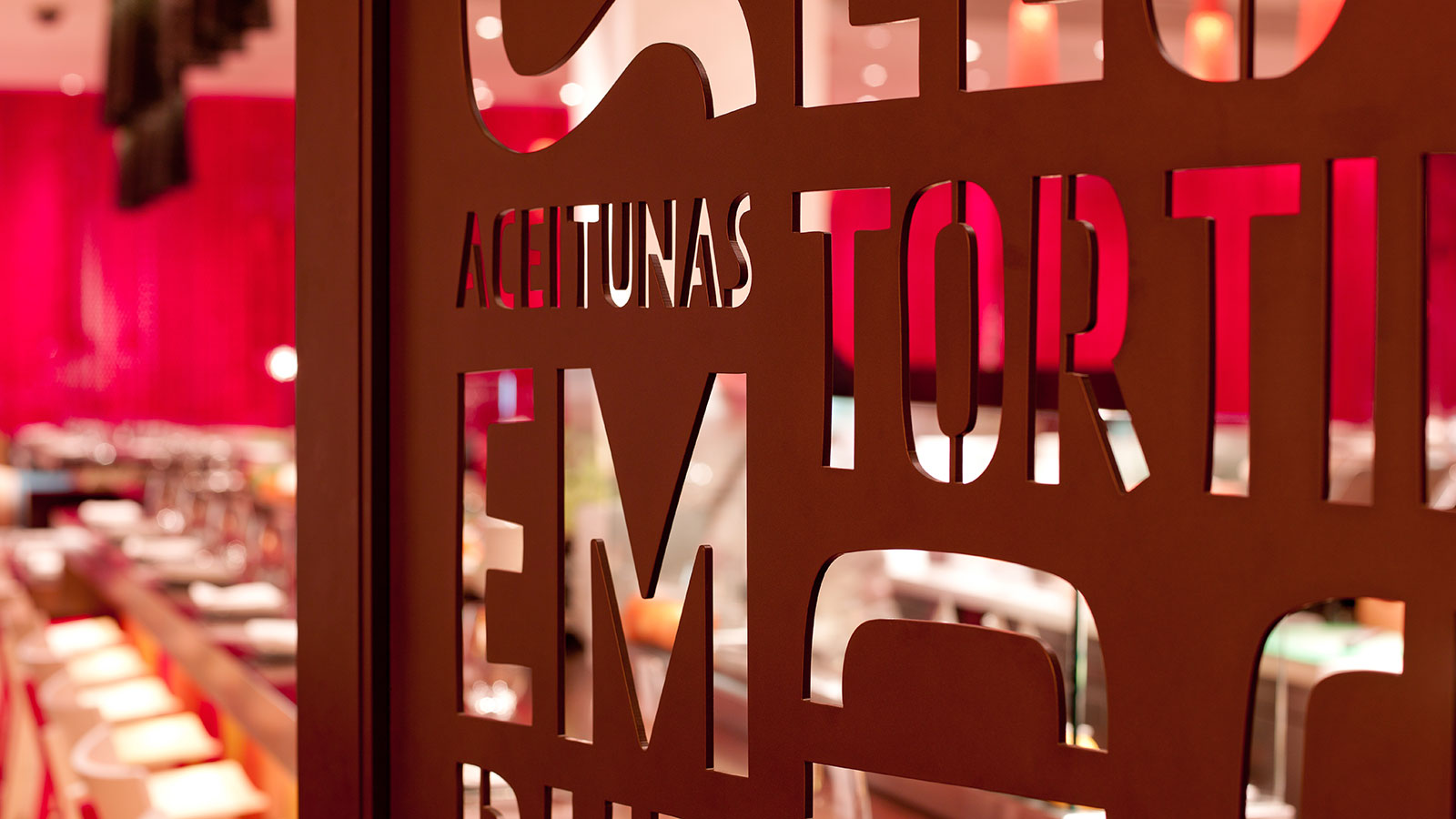 Nobody likes rushing through a meal, especially not in the foodie paradise that is Las Vegas. Here, we dig both leisurely day-drinking at a sunny poolside brunch and decadent, multi-course dinners that are shows unto themselves. But sometimes—especially if one is visiting Vegas for a meeting, conference or major convention like SEMA, CES or MAGIC—that noontime meal needs to be just as expedient as it is delicious. Luckily, there are plenty of perfect spots for doing a power lunch in Las Vegas, including a number of restaurants offering prix fixe menus designed for both maximum efficiency and maximum flavor.
Estiatorio Milos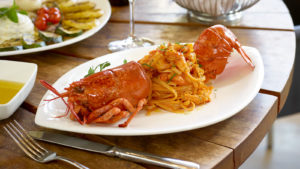 One of the top places to pour over contracts or meet up with friends midday is Estiatorio Milos at The Cosmopolitan of Las Vegas. Featuring sunny Mediterranean décor and exquisite Greek cuisine, the gorgeous restaurant is popular for its 45-minute, three-course prix fixe lunch offering. Start with appetizers like organic salmon tartare or tomato-feta salad. For the main course, seafood is prominent, from grilled sea bream to lobster pasta; grilled meats include chicken breast skewers and lamb chops. For dessert, Greek-style yogurt and fresh fruits keep things refreshing and light so you can get right back to business—or the pool.
Triple George Grill
Located in historic Downtown Las Vegas, Triple George Grill has long been a favorite spot for local powerbrokers and politicians to get their grub on. The wood-toned, vintage photograph-adorned restaurant offers a "Power Lunch Special" with a no-fuss selection of a half-sandwich du jour, soup or salad, a side, and a mini dessert with beverage. The extended menu ranges from a shrimp cocktail and French dip to pot roast and fettuccine Alfredo—plus an entire offering of vegan and gluten-free entrees, to boot.
Ferraro's Italian Restaurant & Wine Bar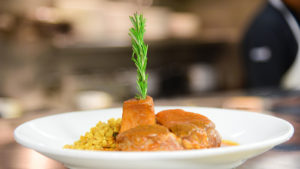 Located across from the Hard Rock Hotel, Ferraro's is a friendly, family-owned establishment that offers a crop of fixed-price "Love Your Lunch" specials that come with a soup or house salad. Choose from rigatoni with spicy sausage, seared salmon with sautéed vegetables, or seared chicken breast with pancetta and a white wine sauce. If you have a little more time to dine, you can also explore the full menu, which includes handmade noodles dishes, antipasti, panini, vegan options, and the house specialty, tender osso bucco with farro.
Vintner Grill
This stylish American bar and bistro was one of the first restaurants to bring Strip-quality dining to the suburbs. Located close to the law offices and financial firms of Summerlin, it's no surprise that Vintner Grill is a popular Las Vegas lunch destination, but proximity isn't the reason—the creative menu is. Experiment with starters like crispy calamari with haricots verts or wood-fired flatbreads topped with such ingredients as smoked mozzarella, goat cheese or romesco sauce. Sure, there are burgers and sandwiches available, but also intriguing entrées such as bouillabaisse, pan-seared halibut, and bistro steak medallions.
Jaleo by José Andrés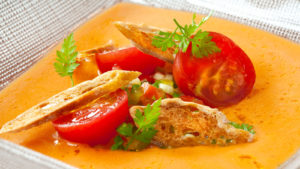 The Cosmopolitan is home to another of Las Vegas' prime power lunch destinations: Jaleo by José Andrés, which brings Iberian flavor to the center of The Strip. Jaleo's convenient "Lunch Like a Spaniard!" menu is filled such delicious tapas as apple-fennel-Manchego cheese salad, spicy potatoes, bacalao fritters, sautéed shrimp with garlic, and grilled Catalan sausage. If you have time to spare, add on a fragrant pan of the daily paella, cooked over an open flame right in the middle of the restaurant.
Panevino  
With its panoramic view of McCarran International Airport's runways, contemporary Italian eatery Panevino offers a scenic spot for power lunchers to dig into its extensive menu. Homemade pastas, diverse salads, pizzas, seafood—whatever you're in the mood for, it's there.  There's even a respectable vegan menu with items ranging from eggplant and artichoke bruschetta to grilled vegetable lasagna. In a rush? Stop by Panevino's handy on-site deli, where soups, salads, sandwiches and more are available on the quick.